I couldn't care less that it didn't win, really couldn't care less (no offence homies, but British people and phone ins? They always fuck it up!), or that they couldn't sing it all live (live vocals, who gives a shit!) because since this glorious song came into my life, it's helped me actually win a karaoke competition doing LVs (LVS!) instead of BVs for a change, I've been determined to work it into a sitcom, Pumpkins Dad was arrested in his underpants, Delta Goodrem lost her record contract, and someone sent us an e-mail to say they saw Ricki Lee trip over in the street and swear really loudly! All we need is Perez Hilton to die in a terrible terrible accident, and I know that if I share how fantastic this song is, life is a beautiful thing!



Doesn't it sound like it was written perfectly and specifically for me?

Anyway, enough of that. Why not enjoy the song, and the fact that today is MELBOURNES BIGGEST CAKE DAY with Millsy and a tight ten from Sue Stanley gimping it up for charity and another fantastic moment of black comedy from Rachel Stevens as we, er, take in Rachel Stevens moment of black comedy...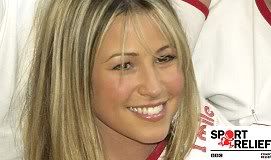 The difference between the black folks and the white folks is the white folks listen to the jazz and the black folks listen to the funkkkkkkkkkkkkkkk...yeah...that's what I'm talking about...

Um....can someone call Betty Boo to replace Ms Stevens?

Alyson